Residential Roof Repair and Replacement
Choose Professional Craftsmen for Your Roof Needs
The exterior of your home is just as important as is the interior in maintaining the value of your largest investment and well-being of your family. Many times, we do not give the exterior the priority we give the interior. Sun, rain, leaves, debris and mold can reduce the life of your roof and gutters.
Even small amounts of debris over time can do a lot of damage. All these factors can be reducing the life of your roof, gutters, fascia and siding by allowing water to travel into and onto surfaces that become damaged with too much exposure.
Further, wind and hail may have damaged your roof and ridge vents, and it may not be visible from the ground. Squirrels may have chewed the sealing of your pipe jacks. Nails and flashing may be sources of leaks, causing unseen damage to your decking.
To meet your needs, Brisk Roofing offers a variety of exterior residential services from which you may choose. All services are provided by a professional craftsman and we strive for 100% customer satisfaction. Warranties are available. Call 855-220-8355 for a FREE estimate or inspection.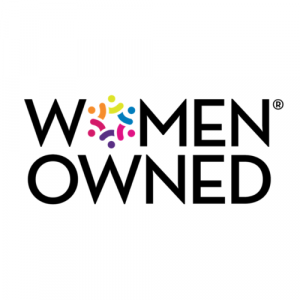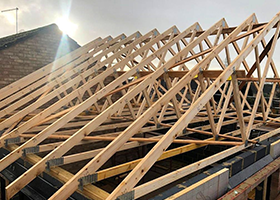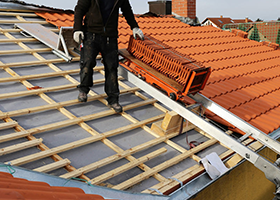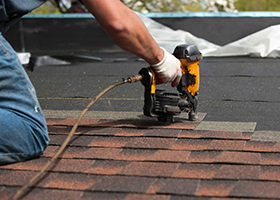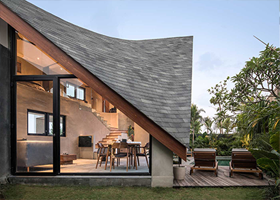 Free Inspections
If you are buying, selling or just staying for the long term, you may want a roof and exterior inspection. Your home is one of the largest and most valuable assets you have. The roof is one of the most critical components of your home.
Because of the intense weather systems in Florida, you should have your roof inspected and maintained at least every 2-3 years. Not inspecting and attending to its condition on a regular basis can put you at risk for expensive leaks and storm damage. You may have insurance, but quite often your damage is below your deductible limits. In this case you pay, not the insurance company.
Brisk Roofing's team of certified inspectors will go over every aspect of your roof, attic, interior and exterior areas of your home, looking for damage. Our roof inspections will check for:
Water leaks and staining
Missing, buckling, or curled shingles
Loose or missing ridge caps and vents
Exposed nails and uncaulked nail holes
Improper sealing of pipe jacks
Unsealed flashing around chimneys and other joining roof surfaces
Weak and damaged decking
Granular loss, roof wear and deterioration
Roof Repair Services
Are you experiencing problems with your roof? Roof leaks are one of the most common problems encountered by homeowners. A small leak can create a lot of damage if not repaired.
Has a recent storm blown off shingles or a ridge vent, a squirrel chewed a hole in your vent pipe, or the caulking dried? No matter what the cause we can find and fix it.
Our experienced team of roofing professionals will work quickly and efficiently to fix your leak and repair any damage to your roof or home's interior. By putting off your roof repair, you could end up causing extensive damage to your roof's decking, interior walls and ceiling.
Roof Maintenance Services
Your roof and gutters many have leaves, debris, mold and lifted shingles, or dried caulking. We recommend you have your roof maintained every season. Good maintenance extends the life of your roof for 5-8 years on average.
Not only do we do the standard maintenance services of removing leaves, debris and cleaning the gutter, we caulk pipe jacks, flashing, exposed nail holes and paint the pipes' vents extending through the roof of your home.
In addition, we inspect for any fascia wood rot due to a lack of drip edge on your roof. We check in your attic for leak stains and potential moisture that can cause mold to develop.
Roof Replacement Services
Need to re-roof your existing home? Re-roofing your home is a significant investment. Our roofing professionals are ready to serve you. If you have storm damage, we are ready to support you in your claim process to ensure you get all the damage identified and covered. If you need to replace your existing roof, we will give you a fair price and great value.
Our roof installers pledge to work quickly, efficiently, and clean up after it is done. Our contractors are highly trained and ready to work on all types of roofs. Our roofers are insured and carry workman's compensation. We'll finish the work on time and within budget. You can be assured your roof will be "up right, weather tight."
Gutter and Downspout Services
Are you looking to install new gutters or have your existing gutters cleaned? Brisk Roofing is the company to turn to. Properly installed gutters enhance the beauty of your home and protect your investment. We are pleased to offer a full range of gutter services, including:
New gutter installation
Gutter replacement
Gutter repair and maintenance
Gutter cleaning
At Your Service
Brisk Roofing is a Woman owned and operated roofing and gutter contractor. We take pride in installing quality products with excellent customer service. With reasonable rates, courteous contractors and a commitment to 100% customer satisfaction, Brisk Roofing is here to help with all your roofing and gutter installation, repair, and cleaning needs. Call us today to schedule an appointment or request an estimate for our services.